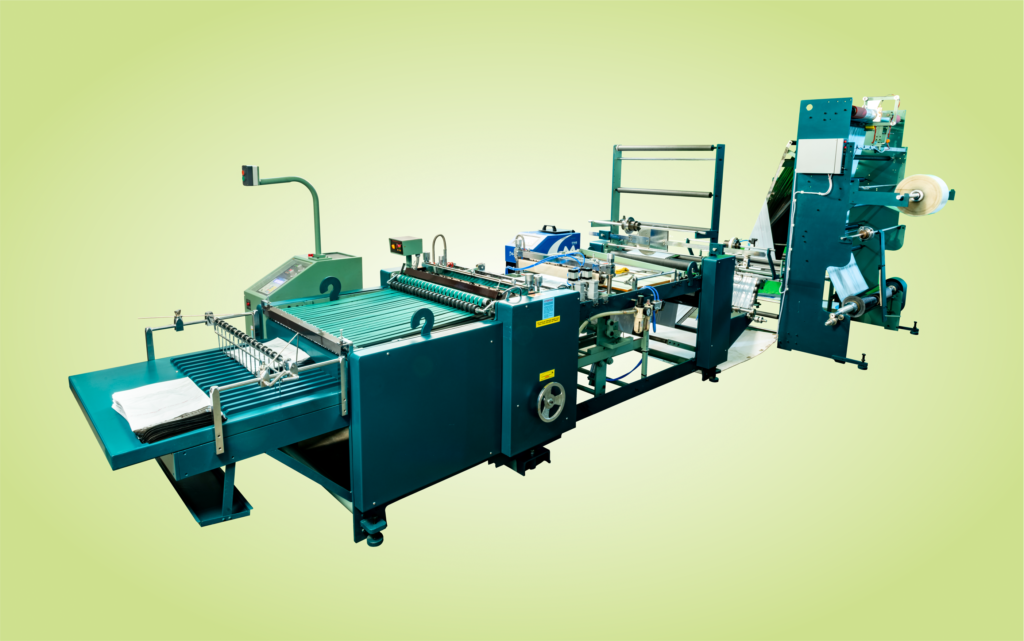 Courier Bag-Making Machine
A multi-function, very easy-to-operate automatic
courier bag-making machine can also be used
to run BOPP & other side seal jobs.
MODEL
CB700
MAXIMUM CUT WIDTH
600 mm
MAXIMUM CUT LENGTH
600 mm
MAXIMUM SHEET ROLL DIAMETER
700 mm
MAX POD ROLL DIAMETER
500 mm
MAX SPEED
W/PSS & POD
210 Stroke/min
100 Stroke/min
TOTAL CONNECTED LOAD
11.5 KW
DIMENSION
W-1650 X H-2200 X L-6150
MOTOR AC
CONVEYOR
MAIN WITH GEARBOX
UNWIND
SERVO

0.75 HP
1 HP
2 HP
1 KW
HOT MELT GLUE
VALCO MELTON
A complete automatic microprocessor controlled setup
to make printed/plain courier bag in a single process.
Hot melt glue auto start/stop with release liner sensor.
Auto POD sealer contact / release.
No expert operator required.
Unwind speed synchronization with stroke & size.
Minimum maintenance
2nd glue line.
Centre perforation.
2nd POD sealer for over-lopping POD type of courier.
Flap opening for converting courier bags from tube
form (POD stuck with BOPP self adhesive tape)
Pneumatic Sealing station for extra seal line
(temper proof sealing)
Intermittent gluing for printed bags.
Videos of Courier Bag Making
Get the

Innovative

Solution fro your needs
At Kejriwal Machineries you will best, Cost-effective & Innovative Solutions for your specific needs