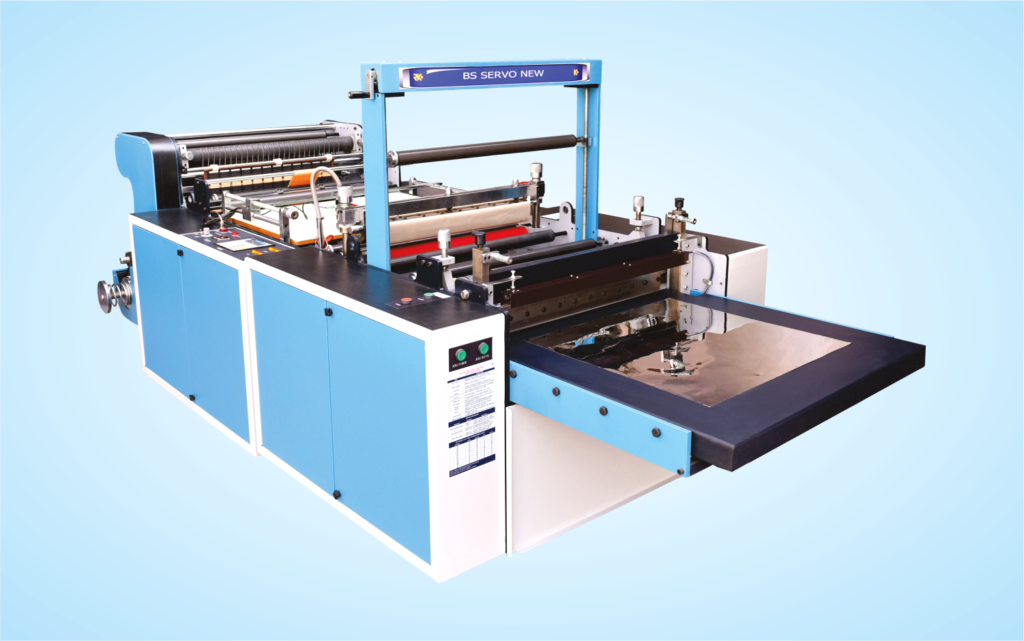 One Antistatic With 4 electrodes, Pre-settable Counter, Temperature Controller & Electricals Housed In A Control Panel Assembly. 
MODEL
BS SRV 600 NEW
BS SRV 700 NEW
MACHINE SIZE
600 mm (23.5")
700 mm (27.5")
MAXIMUM CUT WIDTH
508 mm (20")
610 mm (24")
MAXIMUM CUT LENGTH
1300 mm
1300 mm
MAXIMUM STROKES
165/min
165/min
MAX ROLL DIAMETER
800 mm
800 mm
TOTAL CONNECTED LOAD
4 kw (5.33HP)
4.5 kw (6HP)
OVERALL DIMENSION
W 1237 mm
L 3196 mm
H 1412 mm
W 1337 mm
L 3196 mm
H 1412 mm
Also available in 500 mm, 800 mm & 900 mm
Microprocessor controlled.
Set Length on keypad drawn by servo. 

Mark sensor with colour changing light for critical job.

Seal/cutter top stop logic. (not in case of power failure)

Unwind speed synchronised with stroke and size.

Main speed control by as frequency drive.

Magnetic bag guides.
Punch Options: Online D-Punch / Euro / Butterfly /Round Hole
Online side gusset for Bread Bag
Perforated Sealer for Bread Bag
Wide width sealer for pouch type seal
Rotary Knurl Sealing
Extra Seal Station for specific jobs.
Heated Base for Heavy Gauge Gusseted Bag 
Videos of Bottom Sealing Servo New
Get the

Innovative

Solution for your needs
At Kejriwal Machineries you will best, Cost-effective & Innovative Solutions for your specific needs